As a part of your basic subscription, Cutting Edge support staff provide training and advice on the software, by email, phone and remote sessions.

Should you require additional support for rejected, unpaid, part-paid, overdue accounts etc, Cutting Edge provides a Concierge Service. You can flag selected invoices and our experienced support staff will follow up with the patient and fund on your behalf. Please note that we can only chase up accounts with a date of service less than two years ago.

Once your account is activated for the Concierge service, simply click on 'Send to Concierge' on any invoice that you wish to delegate to us and enter brief instructions.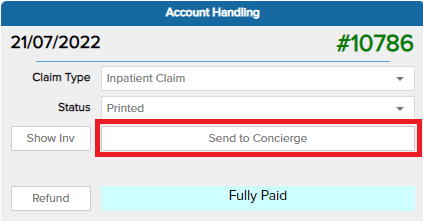 Our Concierge staff will be automatically notified and will commence work within 2 business days. You'll be notified by email of the outcome. Invoices sent to the Concierge service are locked while we work on them, and released back to you once the work is done.

Our fee for this service is 5% of the recovered amount, with a minimum $20 charge per invoice. Generally we will send you an itemised invoice at the end of the month.

Where you require payments from patients for out of pocket medical expenses, we can facilitate recovery if you are registered with our Doctor Bill Service. Doctor Bill provides a portal for patients to make payments direct to your nominated account and is fully integrated with Cutting Edge. We can provide further information on Doctor Bill - call 1300 237 638 or email
support@cesoft.com.au