Adding Additional Provider Numbers
Cutting Edge Software can easily handle different provider numbers for the same provider.
Within the Facilities database there is a field for the Doctor's (Practitioner's) provider number. Simply enter the provider number you wish to use for services at that hospital or facility.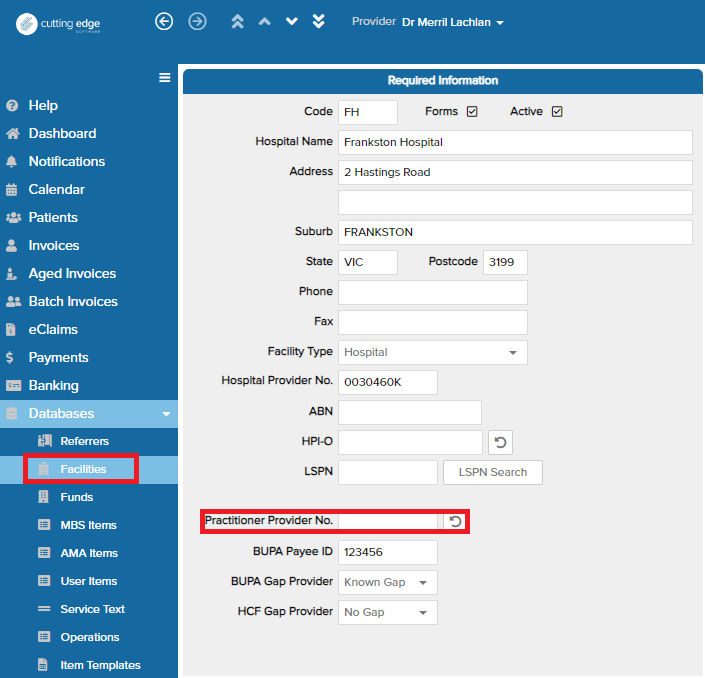 If you have only one provider number that you use for all sites, (e.g. for your office) then just enter that number for all hospitals and other facilities.
If your provider number is different at each site for billing purposes, just edit each of the Facility records to show the new number.
NOTE: There is also a field for Hospital Provider Number. Do not edit this. It identifies the facility to Medicare and the Funds. It's not related to your individual provider number.
Related Articles

Adding Additional Providers

You can have any number of providers at your site. Just contact sales@cesoft.com.au for further information and pricing. We will need: the provider name their speciality the provider number they use for your site For Medicare, each new provider will ...

Adding Hospitals or Facilities

Facilities or Hospitals are required for Procedure Details on the Invoice Report. To add a new Facility, go to the Databases/Facilities or Databases/Hospitals screen and click New on the top right. The following information is required: Code – ...

Adding Surgeons or Referring Doctors

To add a new referrer or surgeon, go to the Databases/Referrers or Databases/Surgeons screen and click New on the top right. The following information is required: Code – three letters or numbers (or a combination), created by you Family Name, ...

Manually adding Health Funds

Adding and Editing Fund Details Cutting Edge is regularly updated with all funds participating in ECLIPSE. You never need to add registered health funds. Should you wish to manually add a specific fund, such as Workcover or an institution that you ...

Adding your bank details

If you want to print Banking Reports, you can optionally save your practice banking details so they are printed on the header of banking slips. Go to the Settings/Bank Details screen to do so. If you prefer not to enter these details you can still ...